Addiction Medicine
During their three years in our program, residents regularly participate in medication assisted treatment (MAT) through specialty addiction clinics at our family medicine continuity clinics. In addition, residents care for patients with a spectrum of substance use disorders—whether active or in remission—when they present for care in inpatient and OB settings.
These experiences allow residents to engage in harm-reduction strategies to care for patients struggling with addiction and substance abuse disorders. If residents have particular interest in addiction medicine or desire further exposure, they may pursue the addiction medicine elective or an area of concentration during their second or third year.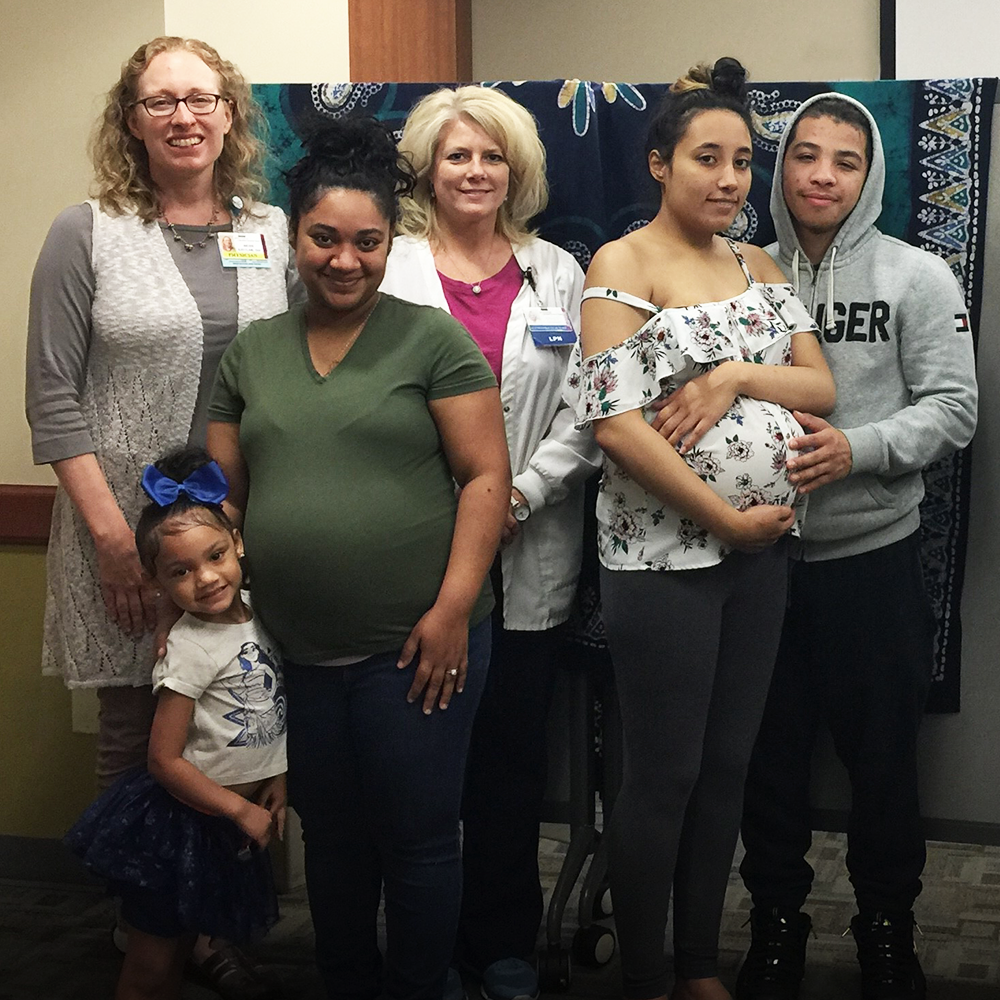 Centering Pregnancy
In May 2019, the Lancaster General Hospital Family Medicine Residency Program was just the second family medicine program in the nation to be approved through the Centering Healthcare Institute certification process.
Centering Pregnancy is a vital part of our training program. All residents are assigned a prenatal group during their second and third years. They learn group-facilitation skills as well as prenatal care, while working closely with five to eight women and their families.
Residents interact with patients on a very personal level while educating and witnessing community building. As the primary provider for each patient, the resident will plan to attend those.
Dermatology
Our dermatology curriculum is a hybrid model encompassing direct patient care, self-directed learning, and formal lecture time. The goal is to educate our residents and provide service to our community.
Twice a month residents deliver care to patients with medical assistance insurance who would otherwise be unable to access dermatologic care. They work alongside community dermatologists who are interested in teaching and community service, as well as family medicine faculty dedicated to delivering excellent dermatologic care.
All residents complete comprehensive modules published by the American Academy of Dermatology to ensure adequate exposure to important primary care dermatology topics. On non-clinical days, residents have time to complete these modules and engage in formal lecture time facilitated by their family medicine faculty..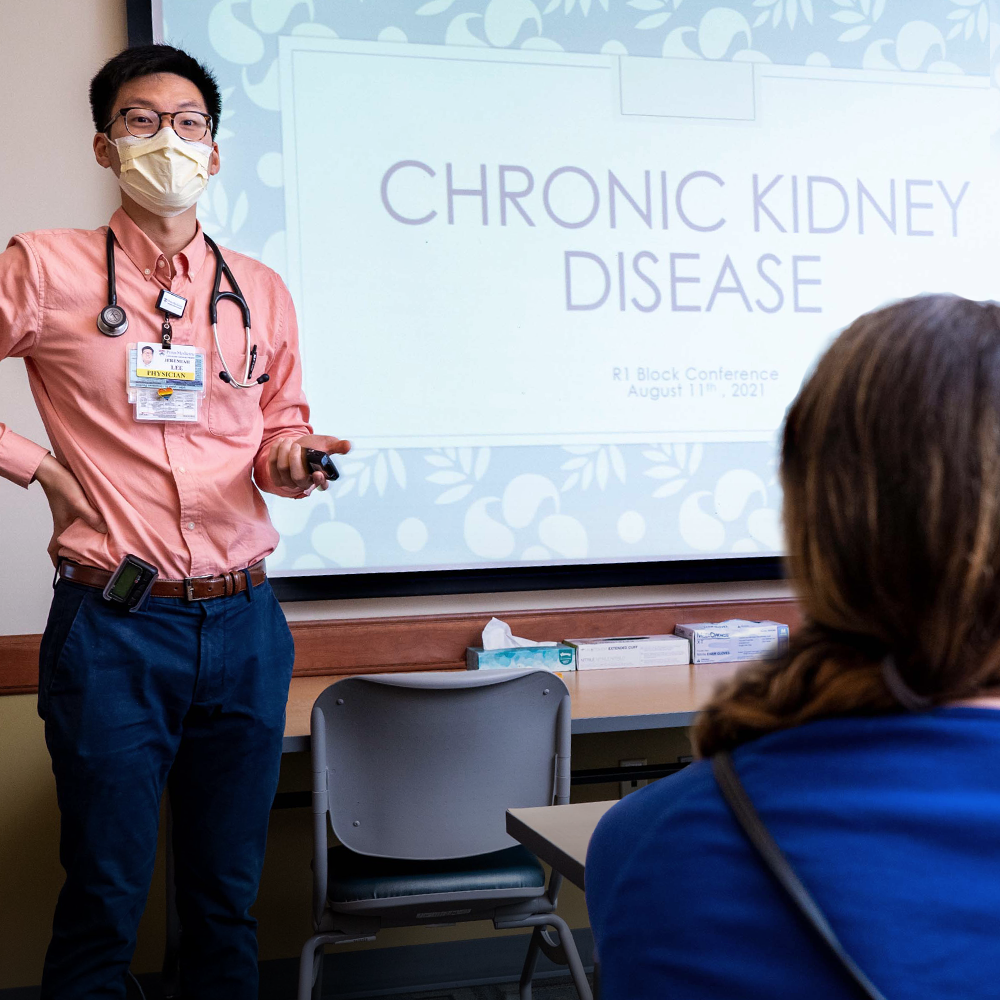 Didactics
Lancaster General Health has a long history of commitment to ongoing education. Conferences cover evidence-based approaches to a variety of medical topics and are presented by faculty members, local attending physicians, guest lecturers and residents. Morning report is held from 7:30-8 am, Monday-Friday.
In our block conference curriculum, residents of a different class (R1, R2, R3) meet each Wednesday to address knowledge and clinical skills sets that are relevant to their needs. Once a month this block session is expanded to include all years.
Narrative Medicine
Narrative medicine and wellness afternoons are a regular part of our residency curriculum. Over the course of their training, residents meet with preceptors to:
Discuss cases
Read relevant poetry, short stories, and narratives
Practice writing in a variety of genres
This offers insight into the storytelling process, a vital skill for physicians as they interact with patients and other health-care professionals.
Osteopathic Medicine
We are committed to providing education in osteopathic principles and practice, as well as osteopathic manipulative treatment (OMT) in a nurturing learning environment for both DO and MD residents.
We hold bi-weekly OMT clinic at our Family Medicine Downtown (urban) location, where residents rotate and hone hands-on manipulation skills. We are in the process of developing OMT sessions in our rural clinic. Currently second- and third-year osteopathic residents can incorporate OMT visits into their own clinic schedules in our rural clinic. We have plans to start an inpatient consult service.
Dr. Johnsen Martin is the primary faculty preceptor for OMT; however, all core faculty undergo ongoing development to better precept osteopathic residents. Osteopathic community preceptors also help facilitate clinic sessions.
All faculty encourage DO residents who are interested in OMT to keep up their skills, apply them whenever possible, and share this knowledge with their MD counterparts.
We encourage residents to attend osteopathic conferences and workshops as schedules allow. There are also a variety of elective opportunities that can be devoted to furthering your manipulative medicine skills.
Point of Care Ultrasound
Our residency program has obtained a number of handheld and portable laptop devices and a simulation system, to help new learners build their ultrasound point of care (POCUS) proficiency. Several faculty members received additional POCUS training in a formal setting.
We have integrated POCUS imaging into our inpatient, outpatient and maternity care rotations, as well as hands-on didactic sessions for residents to gain confidence their scanning skills. We are developing personal POCUS portfolios for residents to take with them after graduation. Backed by our health system, our goal is to fully integrate POCUS into the care of every patient who could benefit from this technology.