A Message from Our Deputy Director Maximize Your Potential
Our curriculum is designed to encourage residents to become the family physician they envision.
Flexibility, extraordinary resources and exemplary teaching allow residents in our program to maximize their potential, develop their skills and discover their interests.
We see ourselves as training the family physicians of the future to practice in diverse settings and to care for diverse populations, with an emphasis on mastering the scientific knowledge and conquering the evidence. Our residents practice with compassionate expertise. Fifty years of experience, the support of a knowledgeable and varied medical staff, and diverse patient populations allow us to help our graduates achieve their goals.
About the Lancaster General Hospital Family Medicine Residency Program
Residents gain clinical experiences at two exceptional practices: Family Medicine Downtown and the Walter L. Aument Family Health Center.
Two preceptors provide supervision, allowing increased availability and flexibility for resident teaching. We became recognized as Level III NCQA Patient-Centered Medical Home in 2012. Patients enjoy expanded appointment options, the benefits of an electronic medical record, full circle chronic disease management, and options for group care in pregnancy.
We encourage family medicine teams to be innovators in care delivery and continually seek quality improvement as residents undertake performance improvement projects. These projects cultivate comprehensive, responsive, and cutting-edge patient care.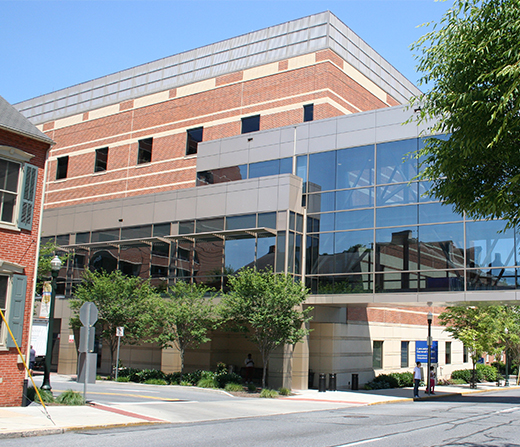 Family Medicine Downtown

Family Medicine Downtown is an urban practice with a richly diverse patient population, and operates as three micro-practices comprised of faculty, residents, advanced practice clinician, nurses and support staff. Health coaches, clinical pharmacists, and counselors are also part of our team. The practice has been the cornerstone of care to the underserved for our residency program since its inception more than 50 years ago. We concentrate on delivering an extraordinary experience for our patients, residents, students and staff.
Walter L. Aument Family Health Center

The Walter L. Aument Family Health Center, our other training facility located 14 miles south of Lancaster City, provides emergent and continuity care to a rural population. Residents learn and practice point of care ultrasound, and procedures in orthopedics, dermatology and gynecology. Both practices provide feedback to residents on their individual and group performance, billing practices and progression in education. All this is provided in a caring and nurturing environment dedicated to patient care and resident success.
From Our Residents' Point of View Practicing at Our Facilities
Our residents share their perspectives on training at Family Medicine Downtown, Walter L. Aument Family Health Center and Women & Babies Hospital.
Our residency program stands out for its excellent OB training within family medicine. Residents train at Women & Babies Hospital, recognized nationally for maternity care, and have the opportunity to deliver babies within their first year.
Mission and Vision Statement Leading in Health-care Transformation
Lancaster General Hospital/Penn Medicine Family Medicine Residency Program educates and prepares outstanding family physicians to deliver and facilitate broad-spectrum, compassionate and socially responsible healthcare to our patients.
—We celebrate the diversity of our community.
—We strive to have our residency reflect the diversity of our patients and community.
—We work to reduce health disparities and eliminate social injustices by examining our personal and systemic biases around religion, race, class, sexual orientation, gender identity and other barriers to equity and equality.
—We strive to understand the health effects of systemic racism and pledge to advocate on behalf of those affected by inequity.
—We train physicians to show empathy, embrace healthcare innovation, demonstrate academic inquiry and actively integrate an understanding of the social determinants of health into patient care.
—We prepare our graduates for the pursuit of the meaningful delivery of acute and chronic care, prevention of disease, and advocacy for health justice for all.
—We are a program of clinical and academic excellence.
—We are an essential component in helping Penn Medicine Lancaster General Health meet its charitable mission and educational vision.