The first-year curriculum provides comprehensive in-hospital training in a supportive team environment.
Inpatient teams include upper-year residents and supervision by attending physicians. There is a night float system in place for coverage on our inpatient services, and an introduction to ambulatory care and one-half day per week continuity experience in the Downtown Family Medicine urban health center.
Our academic year is divided into 13, 4-week blocks. First year residents have protected time—no Friday overnights—each week.
First Year Required Rotations
2 blocks Family Medicine Inpatient Service (FHS Ward)
2 blocks Maternal Child Health/Obstetrics (each block includes 2 weeks of night float )
2 blocks Inpatient Pediatrics
2 blocks Emergency Medicine (each block includes 2 weeks of night float)
1 block Outpatient Orthopedics
1 block Internal Medicine Teaching Service
1 block General Surgery
1 block Behavioral Medicine
1 block Community Medicine
PGY-1: Rotating in this order, 9 weeks total Night Float, no Friday overnights, 3 weeks vacation
Week

Block

1

Block

2

Block

3

Block

4

Block

5

Block

6

Block

7

Block

8

Block

9

Block

10

Block

11

Block

12

Block

13

Week

1
FHS Ward
Ward NF
Peds Inpt.
OB
Surgery
FHS Ward
ED
Peds Inpt.
Internal Med (IMTS)
Ortho
OB NF
Community Med

Week

2
Peds IMTS NF

Week

3
Psych
ED
OB NF
Peds/IMTS NF
OB

Week

4
Longitudinal Clinic at Downtown Family Medicine (DFM)
Swipe to view more table contents.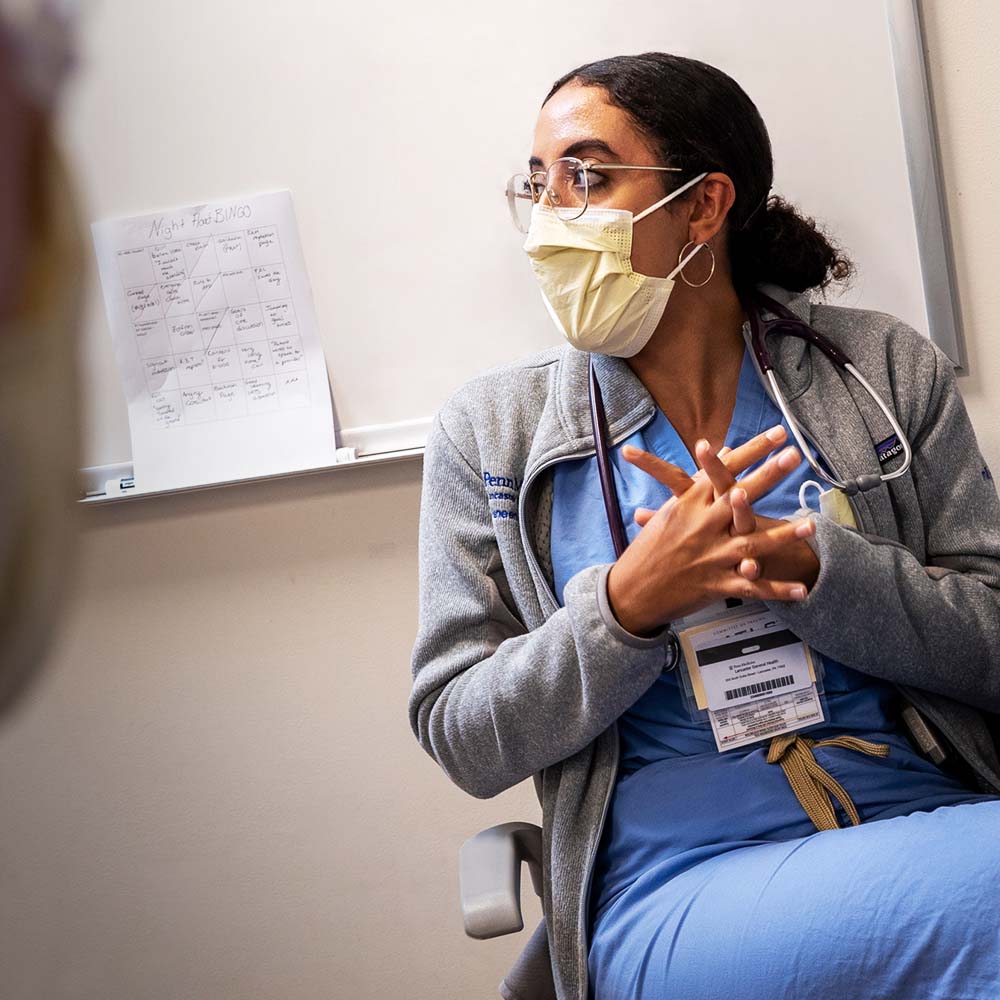 Community Medicine Rotation
First-year residents spend an entire block rotation exploring the concept and practice of community medicine and solidifying their interests in a particular area of the discipline. During this block you have the chance to develop, expand and implement your own ideas about community medicine, service, and population health as you:
Care for new immigrants to Lancaster County
Interact with disability providers
Visit the city health department
Engage in a comprehensive home visit assessment
Street Medicine
Our residency program collaborates with Lancaster General Health Community Health, Lancaster City officials, and other health and community organizations to offer a resident-developed, homeless medicine program. Every two weeks, residents, community nurses, and community health workers visit participants at Lancaster City parks to:
Provide medical care to people experiencing homelessness
Address self-perceived needs
Focus on social determinants of health
Foster trusting, therapeutic relationships
A Message From Our Residents
Learn about the many reasons residents choose the Lancaster General Hospital Family Medicine Residency Program...in their own words.